Circular Saw Guide Rails are the most important part of your circular saw. They hold everything in place and make sure that you get a straight cut every time.
Most people don't know what they're looking for when shopping for circular saw guide rails, so we've put together this comprehensive guide to help you find the best ones on the market today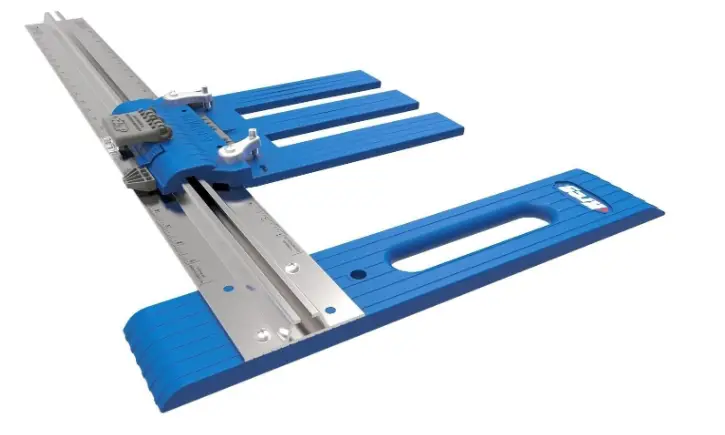 Kreg KMA2685 Circular Saw Guide
Make rip cuts and crosscuts up to 24″ Wide

Cut multiple pieces to the same size

Use the oversize edge guide for precise control
We'll cover things like quality, durability, versatility, design and more – making it easy to find one that meets all your needs. So without further ado… let's dive right in!
Best Circular Saw Guides
IMAGE
PRODUCT
FEATURES
PRICE
Kreg KMA2685 Circular Saw Guide
• Make rip cuts and crosscuts up to 24" Wide
• Cut multiple pieces to the same size
• Use the oversize edge guide for precise control
Milescraft 14000713 Circular and Jig Saw Guide
• Incremental trim feature
• Extends saw blade up to 9.5″
• Cuts circles from 4″ to 19″ in diameter
Kreg Circular Saw Track
• Make crosscuts, rip cuts, and angle cuts up to 50" long
• Guide your saw along the aluminum guide track
• Anti-slip, anti-chip guide strips
Festool FS-1400-2 Guide
• Straight guidance
• Fully integrated system
• Dual clamping strips on the bottom
DEWALT DWS5100 Guide
• 12-inch Ripping Capacity
• ​Lightweight and durable
• Folds down to 19-inch long by 3-inch
1. Kreg KMA2685 Circular Saw Guide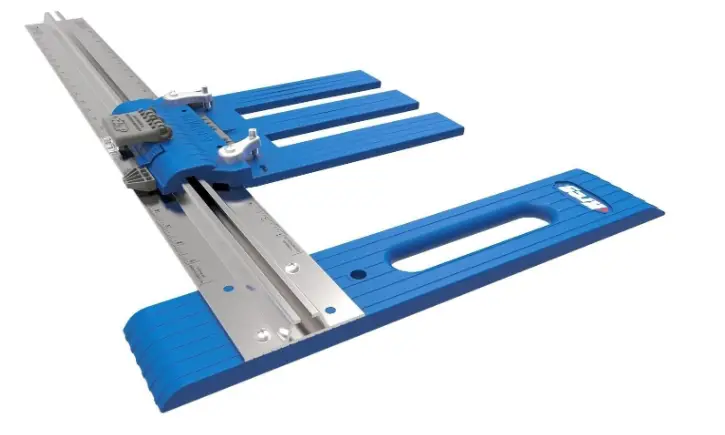 Kreg KMA2685 Circular Saw Guide
Make rip cuts and crosscuts up to 24″ Wide

Cut multiple pieces to the same size

Use the oversize edge guide for precise control
It's time to ditch the tape measure. With this revolutionary circular saw guide, you can make an accurate cut every time! This durable plastic unit guides your tool for quick and repeatable cuts up to 24″ wide on plywood, solid wood boards or any sheet material like drywall.
With just one setup, you're ready to cut multiple pieces of lumber (up to 16) all at the same width — with no saw blade adjustment throughout the entire project.
Product Features:
With the Kreg circular saw guide on your tool belt, that frustration will be a thing of the past.
The oversize edge guide ensures precise cuts every time, with no measuring required—you can get straight to leveling any material right where it lays.
Stop wasting valuable time on elaborate setups when you could work with this efficient saw guide from Kreg.
2. Milescraft 14000713 Circular and Jig Saw Guide
Imagine trying to make a straight cut across your material- no matter how tall it is! Not with Milescraft's circular and Jigsaw guide that makes adjustments by 1/16 inch. Enjoy fast, precise cuts with four steel bars and special clips made just for circular and jigsaws.
To get the job done even faster, use the incremental trim feature to achieve perfect precision every time. Why waste valuable time on tedious cutting when you can do everything in seconds? Save up to 10% on wood while making accurate cuts with Milescraft's efficient circular and Jigsaw guide.
Product Features:
This guide comes equipped with 4 metal bars to accommodate most circular and jig saws wherever you are working.
The product features special clips that hold the adapter tubes in place on your work surface to keep things stable while cutting metal sheets using a handsaw.
It extends up to 9-1/2 inches from the factory edge, so it's easy for you to produce perfect curves and straight cuts with a jigsaw or circular saw.
3. Kreg Circular Saw Track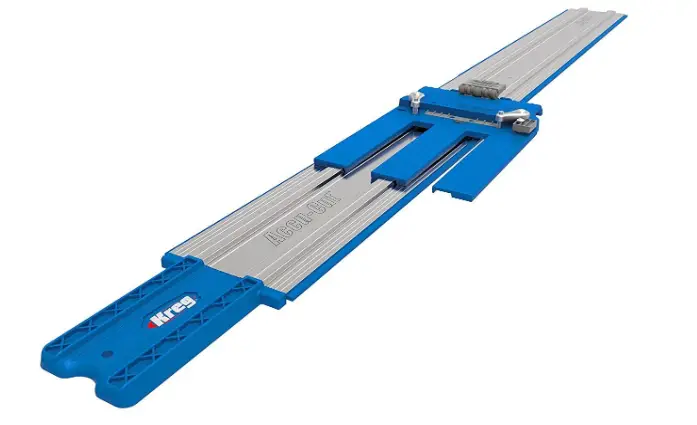 Make crosscuts, rip cuts, and angle cuts up to 50″ long

Guide your saw along the aluminum guide track

Anti-slip, anti-chip guide strips
Having the right tool is essential to success in the workplace, and when you're on a worksite, nothing's better than having versatile tools. Kreg circular saw track makes cutting easy–it allows for swift cuts in material that isn't flat. Made of steel with an aluminum track, this item has different uses, including straight cuts up to 50 inches long!
This circular saw guide is perfect for your profession if you need to make quick crosscuts or angle cut-offs instead of measuring–simply line up the track with your marks and do accurate rip or crosscut operations. You'll never have another bad day at work paired with this indispensable tool!
Product Features:
Kreis circular saw track is a simple and cost-effective solution for getting rid of those pesky clamp marks on your flared boards.
This track will provide the stability you need to get the maximum performance out of your power tool.
Craftsmen are sure to thank you, too, because it prevents splintering wood before cutting- giving them one less worrying detail during the project.
Thanks to its convenient starting blocks that fit any saw size, even beginners can enjoy getting started right away without putting circular saw blade guard in jeopardy.
4. Festool FS-1400/2 Guide
At Festool, they are committed to designing quality products that are easy for the user. Their tools are designed to handle complex tasks with ease while making your work safe and enjoyable.
The FS-1400/2 guide is no exception- it's an indispensable guide rail precisely calibrated to follow the cutting edge of TS Saws, OF Routers, or any other variety of saws you might have in your workshop.
Product Features:
The Festool guide system integrates all your tools to give you a precise, fast and powerful cut with just a router or Jigsaw.
The dual clamping strips for stability mean less setup time and better results every time.
Lightweight aluminum means this durable system is easy on the back when in use!
5. DEWALT DWS5100 Guide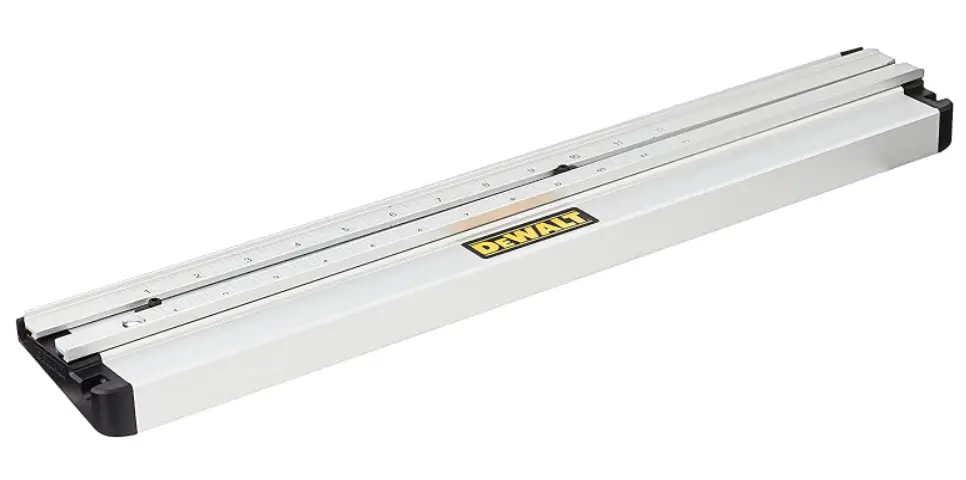 12-inch Ripping Capacity

Lightweight and durable

Folds down to 19-inch long by 3-inch
You know when you just need to rip something in half, and it's got a little breadth? We get that. Every material has its day with the DEWALT DWS5100 guide, from stair treads and risers to home-building products such as plywood or OSB.
Now you can rip through common cuts on the left side up to 12 inches, including diagonal, compound, lap joints and narrow ripping your way right out of anything by 16 ̋inches wide or less with this rugged, dependable crosscut saw.
And it still does what most people would expect-cuts straight down like any other circular saw at 90 degrees for perfect carvings in wood flooring!
Product Features:
Whether you need to mark boards, cut through concrete or perform other useful tasks, this easy-to-use tool will print markings accurately and save time.
Compatible with saws from several brands, the DWS5100 laser marking kit takes seconds to assemble and arrives in a compact package that can be stored anywhere until needed.
If you're looking for versatility without sacrificing speed or accuracy, then DEWALT has what you've been waiting for!
What Is Circular Saw Guide?
A circular saw guide rail is a simple device that attaches to the bottom of your circular saw and allows you to make straight cuts.
The baseplate fits directly under the saw and provides reference points that tell you where you're cutting.
While they're not mandatory, they're extremely useful and can speed up your workflow – especially if your saw doesn't have a laser guide.
How to Choose a Circular Saw Guide
You've seen the goods, and now we're even closer to the day when you'll have to choose between them. To make your choice at least a little bit simpler, take a look at the factors below.
Length
The first thing to consider is the length. How long of a rail do you need? If your baseboard is too short, it can make cutting time take at least twice as long. So, look for one that's about 1-2 inches longer than your saw needs.
Shape
You'll also want to consider the shape. There are two main types of rail – U-shaped and V-shaped. The one you choose will depend on what kind of baseboard you have.
U-shaped rails curve upwards near the end, providing a more stable base – great for those who want to make longer or larger cuts.
V-shaped rails are less expensive but can be harder to fit in tight spaces – making them better for small or custom jobs.
Construction
The construction of the rail is also important. Look for something with a solid metal base and without too many moving parts. If your saw's rails aren't very solid, they may not support it properly – leading to accidents or broken blades during use.
Price
And, consider the price! You can get a quality guide rail on a budget, but be sure to stay within your limits. If you don't have enough money for a high-quality rail, consider going with something of lesser quality.
Compatibility
You'll also want to consider the compatibility. Most rails are universal, but some are specific to certain saw models – so be sure to double-check your dimensions before making your purchase.
For example, Bosch Glide is only compatible with Bosch saws, whereas Kreg's guide rail is compatible with many brands. You'll also want to double-check the shape of your rails – some circular saw guides are U-shaped while others are V-shaped.
Sturdiness
The base of your guide rail should be sturdy and durable. After all, the whole point of buying one is for it to support your saw – so buy one that won't easily break or wear out over time.
Also Read: How To Use A Scroll Saw? Step-by-Step Guide
Versatility
You'll want to consider how versatile it is. How many different cutting surfaces can it be used on? Can you use it horizontally and vertically? Will it work for an angle cut? All of these things should be considered before making your purchase.
Material
The final thing to consider is the material. The two main types of materials are aluminum and plastic. Aluminum rails tend to be sturdier and made for heavier uses, while plastics can be lighter and more versatile – making them great for home users or those who don't need something as long-lasting.
How to Use a Circular Saw Guide?
Now that you better understand circular saw guides and how to choose the right one, the next step is learning how to use them. No need to worry, though – it's pretty simple!
Step 1: First off, get your circular saw and place it on top of your rail. Make sure both ends line up, then place the saw on the base of your guide rail.
Step 2: You should see metal slots that can be used to adjust how high or low your saw is. Adjust these until both ends line up perfectly with each other.
Step 3: Now that everything's in place, all you have to do is press down on the saw, and it should start cutting – following the line down the rail.
Step 4: If there's a straight edge, you may be able to make your cut by simply holding down on your saw and sliding it along the rail.
Step 5: Remember that this guide is only meant to help make clean cuts, not speed up or slow down your work. It's meant to help turn a good circle cut into a great one – not make it faster or easier.
FAQs on Circular Saw Guide
Now that you understand what guides are and how to choose the right one, you may still have some unanswered questions. We've compiled a list of the most common ones below:
How Does it Work?
Guide rails work by being placed underneath your circular saw. The rail helps your saw stay straight by offering resistance when it's pressed down on. This ensures that your circular saw will cut in a straight line and follow the correct trajectory.
What are the benefits of using a circular saw with a guide system?
Using a guide rail is similar to using a track saw, but it's much cheaper and works with nearly any circular saw on the market. It's great for beginners and pros alike because it makes cutting easier and more accurate.
How long of a guide rail do I need?
The length of your guide rail will depend on what you're trying to cut. Longer rails are typically recommended for people who are cutting sheets of plywood that are longer than 4×8.
Can I use it for more than just wood?
Yes! You can also use guide rails to cut metal, plastic, and other projects that require straight cuts.
What is the difference between a U-shaped rail or a V-shaped rail?
U-shaped rails are better for long-distance cutting, while V-shaped ones are great for short-distance cutting. A U-shaped rail is also more suitable for jigsaws, while V-shaped rails are better with most circular saws.
How do I attach my circular saw guide properly to the workpiece?
Follow these steps:
Place one end of the guide rail on your workpiece. Make sure it's attached securely to the area you're working with.
Then, hold down on your saw and slide it along the rail until it reaches the other end – following the line perfectly.
Final Words on Circular Saw Guide
In short, circular saw guides are tools used to make more accurate cuts using a circular saw. They come in all shapes and sizes, from thin plastic strips designed for small projects to heavy-duty metal U-shaped rails meant for longer or bigger jobs.
These are perfect for anyone – from casual DIYers to professional contractors who make a living using circular saws. You can find one that fits your needs and get started making perfectly straight cuts today.
I hope you've enjoyed reading this guide; if you have, please rate and comment, you can also subscribe to our mailing list to be notified when we post new articles like this one. Thanks for reading.