Choosing the best power tool is not always easy, and the same applies to a chainsaw. You need to get a perfect balance of safety, utility, and efficiency. In this article, we shall discuss both the similarities and dissimilarities between the two widely held chainsaws, the Stihl Ms 211 Vs Husqvarna 435 so that you can determine which the better buy product is between the two.
Stihl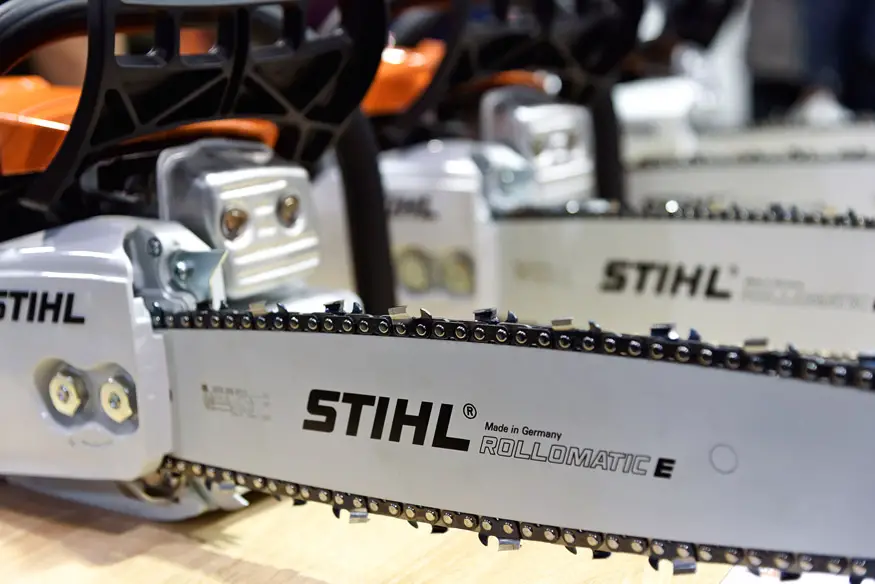 While other chainsaws versions have been around since 1830, being either kinetic in nature or steam-powered, Andreas Stihl introduced the first gas-powered chainsaw in 1929. In 1950, Stihl created the first single-operator chainsaw.
Andreas Stihl is rightly regarded as the father of the current chainsaw. His factory/ company which is based in Germany was the first to mass-production of chainsaws- with the word "chainsaw" being as popular as Google is to search engine or Xerox is to photocopy.
From 1970 to date, Stihl has evolved to line trimmers, leaf blowers, edgers, mowers etc. and has established new plants in the USA, Brazil, and China (as of 2008).
As a leading brand in the industry, the company is now more of a monopoly as they are among the best professional chainsaw manufacturers, best suited for all arborists and commercial-grade loggers today.
Husqvarna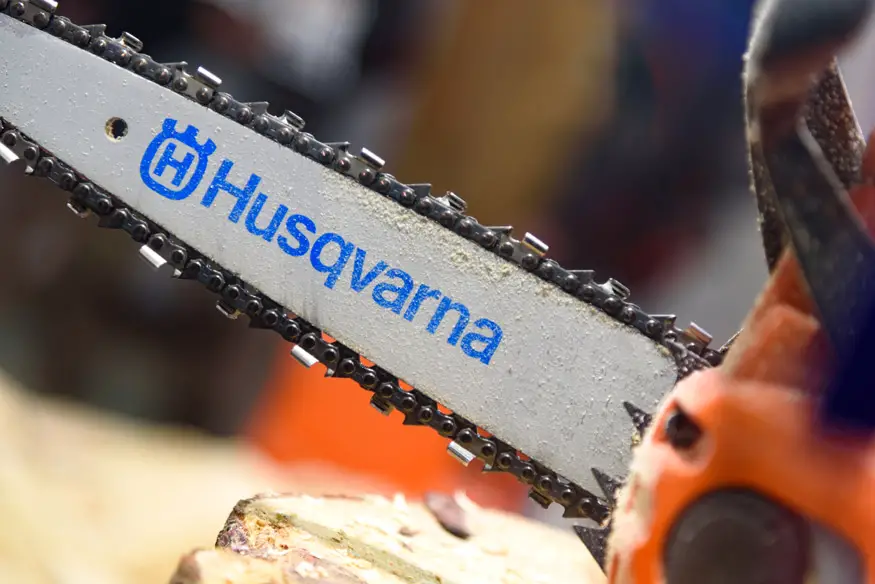 Husqvarna started in 1689 as a state-run riffle factory in Husqvarna, Sweden. Around the end of the 19th century, the company began diversifying, manufacturing sewing machines, bicycles, and cast iron cookware and were the industry leaders in the manufacturing of motorcycles after Peugeot. In 1959, they began producing chainsaws and later transformed into a full home/garden range. Currently, their headquarters are based in Sweden, the USA, Brazil, as well as China.
 Ironically, based on a side-to-side test of Stihl Ms 211 Vs Husqvarna 435 chainsaws, most reviewers have it that Husqvarna exceeds the Stihl Ms 211 in several major aspects. However, they often prefer the Stihl Ms model.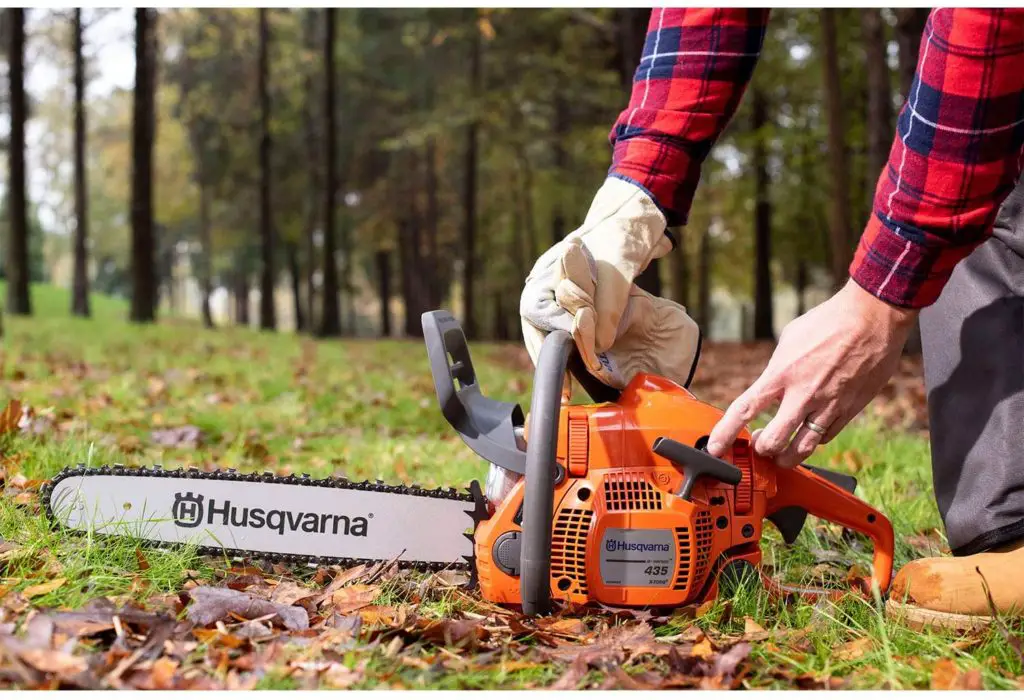 Husqvarna 16 Inch 435e II Gas Chainsaw
2.2 horsepower

9000 RPM max running speed

2900 RPM idling speed
Fixed flow oil pump (non-adjustable)
.05 chain gauge
.325″ chain pitch
X-Torq engine
Easy release air filter and air injection
Durable 3 piece crankshaft
---
Stihl Ms 211 vs Husqvarna 435 Chainsaw Comparison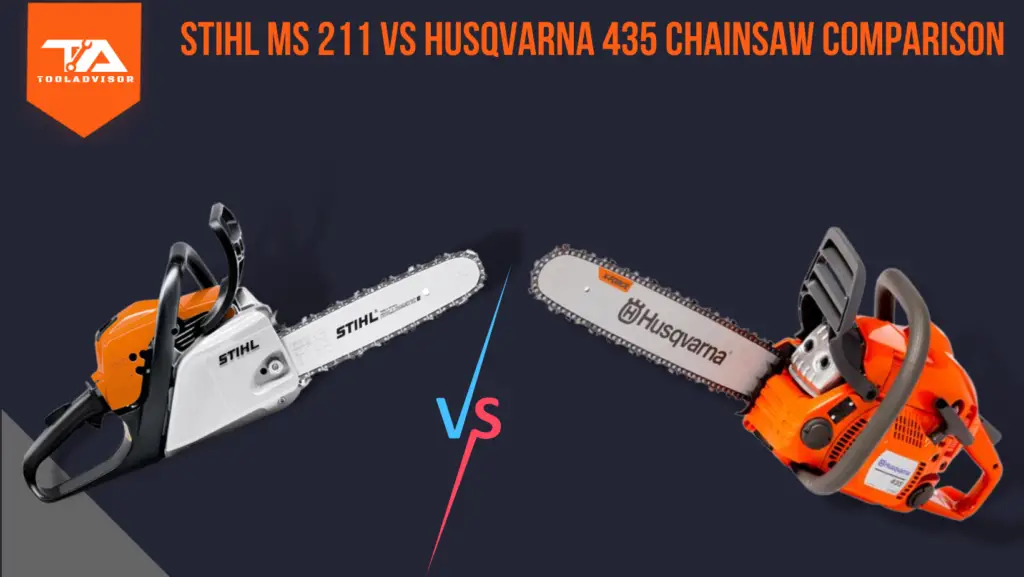 Appearance
These are two remarkable, powerful, handheld 16-inch chainsaws designed for personal use. They are both similar, featuring a sleek and stylish design with a black and orange finish. That said, the Husqvarna 435 comes with a more ergonomic design with an asymmetrical handle that has a soft inlay. This makes it somewhat easier to use for an extended period of time.
Additionally, the Husqvarna 435 incorporates a snap-lock cylinder cover to help remove it easily. I also help to save time when you're changing spark plugs and when cleaning the chain saw. The 435 is also a more robust machine as it employs a forged 3-piece crankshaft.
Another major aspect to consider about the functionality of these chainsaws is the unit weight. Being handheld, the weight will always dictate the functionality of the model you choose. For the Husqvarna 435, it weighs relatively more than the Stihl 211. The Husqvarna weighs 9.2 lbs while the Stihl Ms comes in at 9.3 pounds.
That means the Husqvarna will be easier to use compared to the Stihl 211 model. Although it might seem quite insignificant, the lightweight featured by Husqvarna 435 often appeals to most customers who have purchased this chainsaw. They both have a similar range of recommended length of the main bar. Stihl recommends a range of 12-18 inches for the 211 models, while the Husqvarna recommends 13-18 inches range for the 435 models.
Power
Besides being lightweight, the Husqvarna 435 comes power-packed and uses an engine power of 2.2 horsepower plus 40.9 cc engine. On the other hand, the Stihl 211 is pretty similar in power featuring a 2.3 Horsepower plus 35.2 cc engine.
Handling
As you may understand, the best way to know about a chainsaw handles is to handle them yourself practically. However, far-reaching online feedback from users shows that Stihl saws are typically associated with better bumper spikes for felling.
As earlier mentioned, they have low-end torque to engage those trickier jobs. The Husqvarna, on the other hand, comes with a better anti-vibration, better self-lubrication, and more substantial tanks for prolonged use before refueling, thereby enhancing a smoother and cleaner cut while slicing through logs. As such, the Husqvarna is the best pick for this category. You can change the bumper spikes rather quickly and cheaply.
Maintenance
Any quality chainsaw calls for regular maintenance to get the best performance. Chainsaw users have it that Husqvarna requires a more often upkeep as compared to the Stihl. However, Husqvarna offers a much better warranty. Considering the more competitive warranty, plus purchase cost between comparable models, the time for maintenance and price actually works in favor of the Husqvarna, over the varied ranks of upkeep.
Anti-Vibration System
At a glance, both brands have invested hugely in terms of time and money to develop anti-vibration technologies for extended operations. For the Stihl Ms 211, it boasts a shock-resistant handle function, whereas the Husqvarna incorporates a shock-technology into their models. While both brands are capable of longer use, users' reviews indicate that the Lo-Vib mechanism applied by the Husky allows for smoother application.
Safety
Both the Stihl Ms 211 Vs Husqvarna 435 provides impressive safety features for users. With either model, you'll have a chain brake system that cuts off the saw automatically in case of a significant kickback situation. They all come with an all-in-one switch, although the Husqvarna manual shut-off is a quick thumb down motion. The Stihl requires you to push the thumb counter-intuitively skyward for shut-off. This makes it less of a natural movement.
Fuel Capacity
Both chainsaws are made to operate on gas. Even though the Stihl Ms 211 is relatively heavier as compared to the Husqvarna 435, it has a lower fuel capacity. For the Husqvarna 435, it comes with a fuel capacity of 12.5 ounces while the Stihl holds up to 9.5 ounces.
The X-Torque feature presented by Husqvarna 435 makes this chainsaw really efficient when it comes to conserving fuel. The Stihl 211 is also fuel-efficient compared to other chainsaws out there, but it can't beat Husqvarna 435 in this particular department. Furthermore, Husqvarna 435 has made it easy to know the fuel level by using a transparent fuel tank.
Starting the Chainsaw
Stihl 211 comes with an exclusive, ElastoStart starter handle. This helps to get a powerful grip, besides having an inbuilt shock absorber designed to facilitate a smooth start. Thanks to the in-built quick start system plus the air purge which removes air from the carburetor and the fuel system.
Similarly, the Husqvarna also claims that their 435 model has a safe and secure start. However, several customers were dissatisfied with the sluggishness of the start featured by the Husqvarna chainsaw.
Noise & Vibration
As previously mentioned, the Husqvarna 435 comes with a LowVibe mechanism that helps to reduce the vibration levels considerably, thereby making it more convenient to operate the machine.
On the other hand, Stihl 211 features an anti-vibration system designed to reduce machine vibration levels. Between the Stihl Ms 211 Vs Husqvarna 435, the Stihl model produces less noise the Husqvarna. Both machines are not very noisy, but Stihl 211 is quieter than Husqvarna.
Additional features
Both Stihl Ms 211 Vs Husqvarna 435 chainsaws incorporate a chain tensioner, which you can access from the side. This allows you to adjust the saw chain rather easily using a bar wrench. Stihl 211 models come with Stihl's trademark Quickstop.
In the case of kickbacks, this system deactivates the spin of the chain immediately, making the chainsaw safer. The Husqvarna 435 comes with an upgraded inertia chain brake which makes it easy to use.
Warranty
The Husqvarna 435 is covered by a standard warranty of two years by the manufacturer. Nonetheless, users can extend the warranty up to four years by purchasing three fuel cans (32 ounces) of Husqvarna pre-mixed fuel. This product needs to be registered online to get an extended warranty. In comparison, Stihl also comes with a two years warranty meant for domestic use and one year for warranty for commercial purposes.
You Might Also Like: Best Dovetail Jigs
Stihl Ms 211 Vs Husqvarna 435- Pros and Cons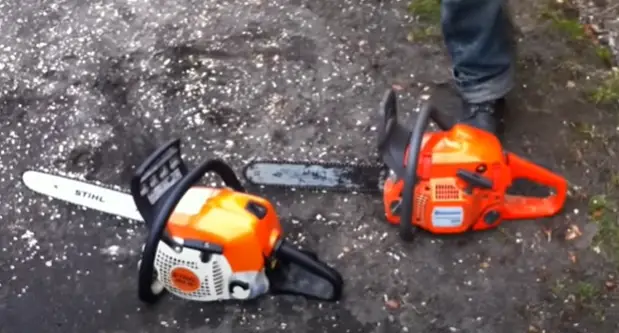 Pros and Cons of the Stihl Ms 211
Pros
Pros of the Stihl MS 211
Industry favorite
Customer favorite
Quality German built
More horsepower per engine size
Cons
Counter-intuitive cut-off switch
More expensive than other comparable models
Pros and Cons of the Husqvarna 435
Pros
Quick start
Less expensive
Longer warranty
Easier to find onlinet
Cons
Less option to pick from
Heavier compared to other models
Conclusion
Both the Stihl Ms 211 Vs Husqvarna 435 are extremely efficient and dependable chainsaws. After comparing both machines, the Husqvarna wins in several aspects. However, the Stihl 211 seems to present a greater number of handy features- although the Husqvarna 435 boasts some of these features to some extent.
At list cost, the Husqvarna 435 is a bit cheap than the Stihl 211. It's good to understand that product prices can change with sales. However, according to customers' reviews, they are both well priced for their features and functionality. If you don't mind the price difference, we recommend the Stihl 211 handheld domestic chainsaw. On the other hand, if you choose the Husqvarna 435, you won't be left behind either.