A table saw is an essential tool when it comes to woodwork. It does not matter if you are a professional carpenter or a DIY enthusiast who loves creating your masterpieces or ordinary wooden cabinets, a table saw is essential. There are several different table saws in the market, and the magnitude of your projects will determine the best table saw to buy.
Without further ado, let us dig right into it.
1. Portable Table Saws
The first category is the portable table saws, and as the name suggests, you can move with them from one place to another with relative ease. Under this category, there are three subcategories: the mini table saws, benchtop table saws, and Jobsite table saws.
Mini Table Saw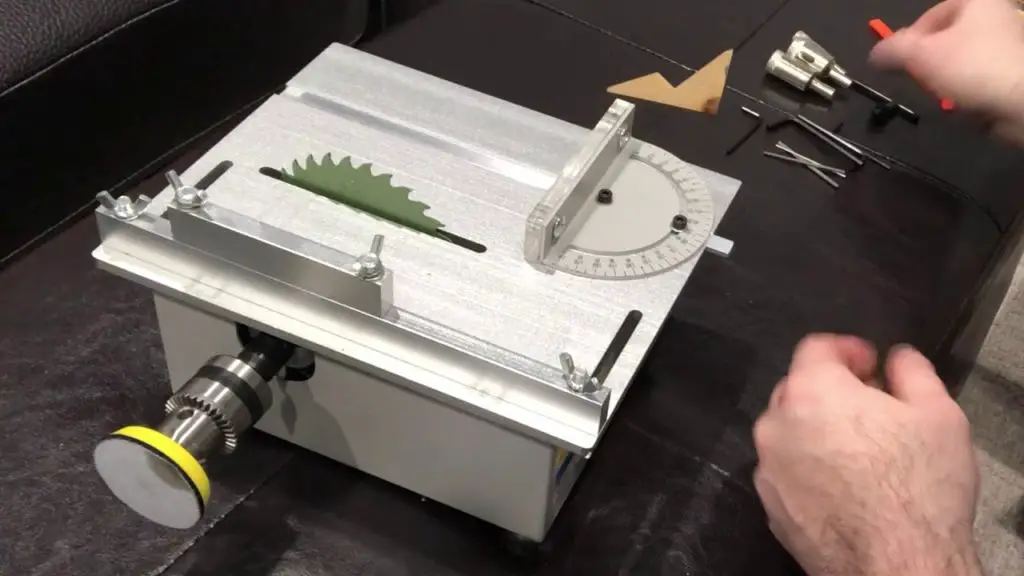 You can say that the mini table saw is the newest entrant in the table saw market. They are an excellent option for DIY enthusiasts who like to carry out wooden projects. They are incredibly lightweight and thus portable. They are also compact, which means that they can fit into your workshop pretty well and will not occupy much space. The best characteristic of the mini table saw is that it does not lose its ability to make precise and straight cuts. Due to their size, though, they are not suitable for major projects. They do not have powerful motors, so you should only use them for light work. They are a good option for beginners as you learn the ropes of using table saws.
Their price is also pocket-friendly, and if you are a DIY enthusiast who is just starting with table saws and do not engage in large projects, then this is the perfect portable table saw.
Benchtop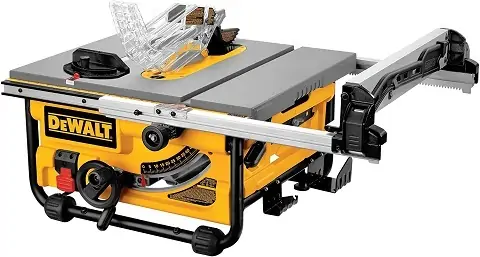 These are the best value table saws as they are easy to carry and move around. The portable table saws are ideal for people who need to move from one job site to another. They are generally designed to sit on a bench as the name rightly suggests. They are also designed for light work. These portable table saws do not have stands, and you will always need a table or a bench to use them. The lack of stands makes them lightweight, and they weigh between 50lbs to 60lbs, which is not much of a weight for an average person. They come with an aluminum top and will help you achieve accuracy when making different types of cuts.
Jobsite Saws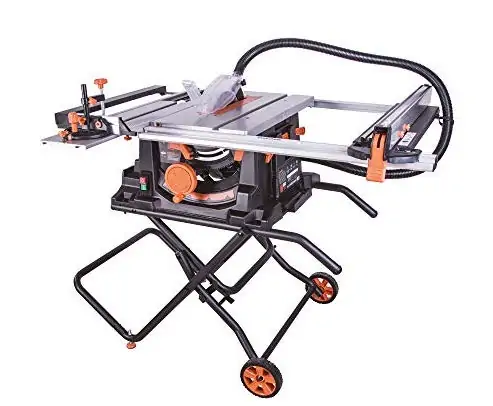 The second category of portable table saws is the Jobsite saws. Some people use the word "Jobsite" and "contractor" table saws interchangeably, but they are different. Contractor table saws(which we shall review later on) are traditionally stationary. Therefore, the difference is on mobility. As the name "Jobsite" suggests, these table saws are meant to be used on the site since they are more suitable and powerful than bench table saws. However, as a homeowner, you can also get one for more robust projects or better results. To ease in transportation, they have a foldable stand often with wheels to ease in their movement.
They are more suitable for more intense works since they are more powerful than bench table saws. It is important to note though that portable table saws tend to vibrate more and may not be efficient when it comes to cutting hardwoods. The portable table saws may not be the right choice if you are looking for precision and accuracy.
There is also the option of a portable table saw stand, and most table saws become an instant portable table saw.
2. Contractor Saws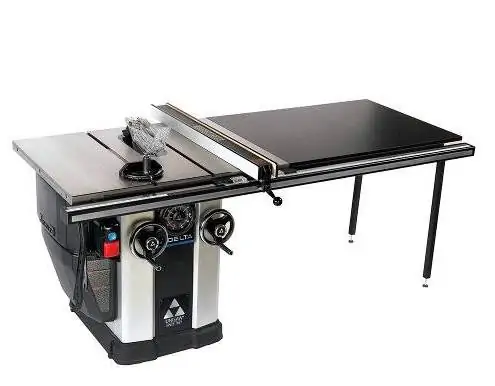 The contractor saws are meant for professionals and are a cheaper alternative to the heavier and larger cabinet saws. These saws are much more robust and can handle more extensive and more strenuous jobs as compared to the portable table saws. They come with a larger table area, and they also have a powerful motor and therefore offer higher rip capability, which means they make better cuts.
The table saws have a belt-drive, and their motors are located at the back where they are easily accessible. Initially, they were designed for portability and so the motor had to be easily accessible so that it could be easily removed. But as time has progressed, so has the design of the contractor saws. They have more features nowadays and are way better but have also become heavier. Now they weigh around 300 lbs. This means that they are not as easy to move around.
Most of them have extension wings, which are either made of webbed cast iron or stamped metal. A majority of contractor table saws have a tabletop made of cast iron.
The contractor saws are the best budget table saws as they are quite affordable. As far as the functionality goes, they are easy to use and can be ideal as the best table saw for the professional. Due to the compact design and size, they are suitable for small shops. They are made of cast iron, which makes them durable and sturdy, and thus a worthwhile investment.
3. Cabinet Saws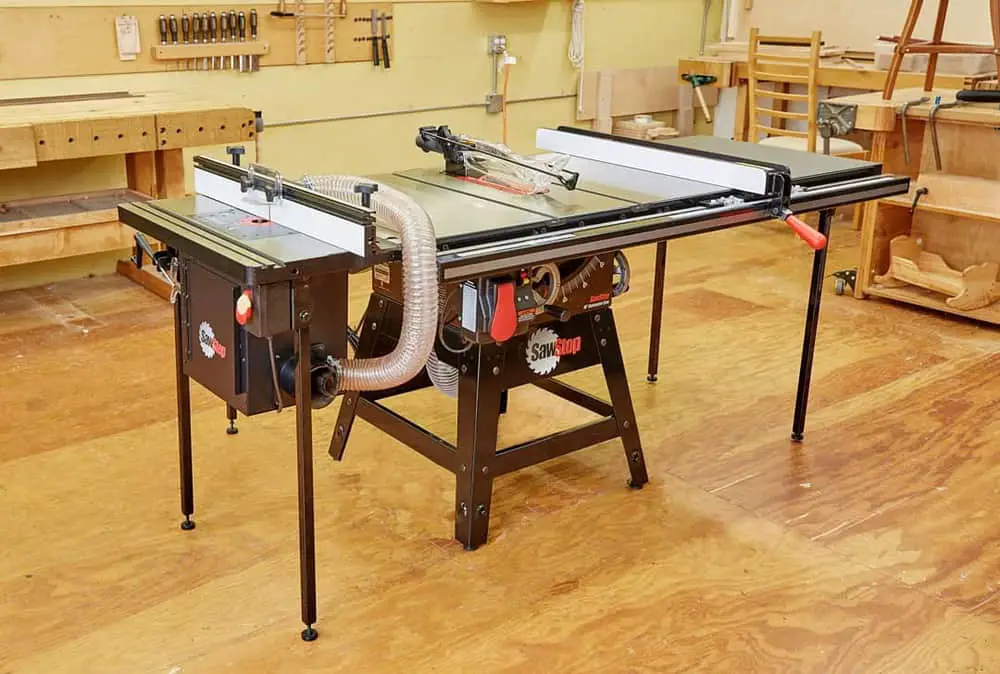 It is safe to say that this is the ultimate table saw for a professional. Cabinet table saws are superior to their counterparts in virtually every aspect. They are built to withstand heavy use for a long time, and as such, its components are built to last and endure rough usage.
The cabinet saws draw their name from their design as they are enclosed. For the professional workers, these would be the best table saw for the money as they are designed in such a manner that they will provide you with exceptional accuracy and are quite durable.
Apart from their cast iron and steel frame, they also have more robust gearing and trunnions, which ensures that they last for a long time. With these saws, you get more accurate cuts since the fences are firm, and the vibration is significantly reduced due to its cabinet like design.
They are also more robust and can handle both hardwood as well as softwood, which is not the case with the previously discussed table saws. The advantages of the machine's steadiness are that you will not be forced to make adjustments every now and then, once you get your settings right, you are good to go.
This is quite unlike other table saws, which lose their settings more often because of the constant vibration, and you have to readjust them now and then.
However, what makes the cabinet table saw to outshine the other table saws is its immense power. The saw uses a 240 volts motor, which produces an amazing 3 to 5 HP.
The saw can cut through hardwood, pine, and even pressure-treated lumber and a majority of large material sheets due to its powerful motor, sturdy build, and durable components.
They have powerful motors, enclosed in the cabinet, which reduces the noise levels significantly. Due to the cabinet design, you would not need to have a separate dust collection unit when using this type of table saw. You will experience minimal vibration with the cabinet saws.
4. Hybrid Table Saws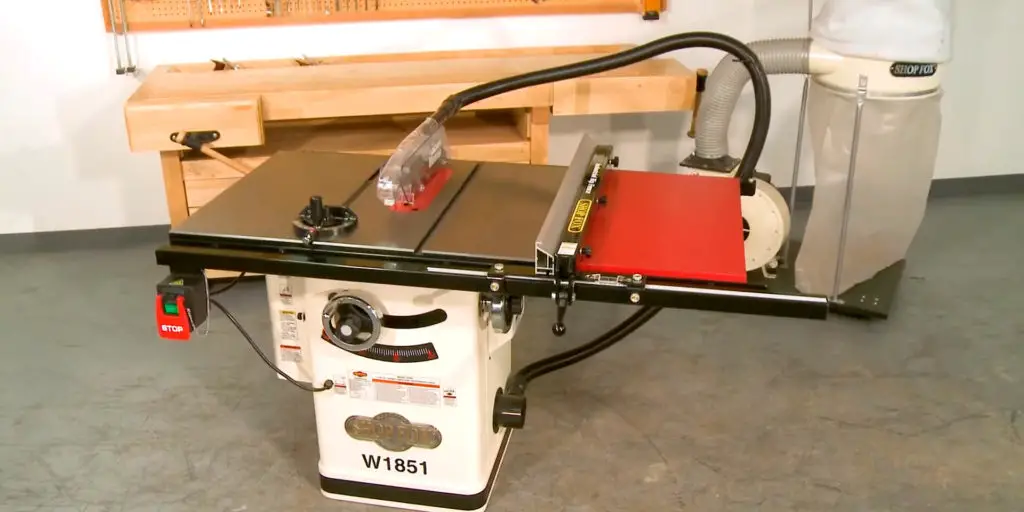 Last but not least, we have the hybrid table saws that are recent entrants into the game. They combine aspects of the cabinet and contractor table saws, thus their name. They can find a common point between the contractor saws and the cabinet saws.
This is a combination of all the best features from the other models, and the good news is that you can easily afford it.
The hybrid table saws address the shortcomings of both the cabinet and contractor table saws. Just like the cabinet saws, the hybrids have an enclosed cabinet, which helps in dust collection. Depending on the model, some have trunnions that are mounted on the table. For other models, though, the trunnions are mounted on the cabinet.
These table saws are usually lighter than the cabinet saws but heavier than the contractor saws. They are also more advanced in terms of gearing and belt drive system than the contractor table saws.
Some models will have an enclosed base and legs, while others have a cabinet base. The common point is that in either style, the base is usually enclosed. The hybrid saws come with substantial arbor bearings and trunnions, as well as various advanced features. They are pretty light and have powerful motors, and they have been rated as the best hybrid table saws for home shops.
When it comes to choosing the best type of table saw, then your expertise, nature of your projects, and your budget should be your guiding factors. Space, functionality, and portability are also other essential factors to put into consideration. You can get a portable table saw if you do not work with thick beams of hardwood.
However, if you work with thick beams of hardwood, you need to go for the sturdier options like a hybrid, or a cabinet table saw. A table saw is a considerable investment, so make sure that you take all the highlighted factors into account before you make the purchasing decision.
To see the best of all of these you can check out our 2 lists, the best table saws for the money and the best affordable table saws.